Indianapolis 500 presented by Gainbridge
May 26, 2024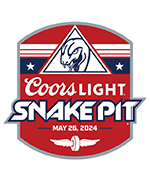 Coors Light Snake Pit
Sunday, May 26
The ultimate party in motorsports – the Coors Light Snake Pit – is back on Indianapolis 500 Race Day as the launching pad for a sizzling summer. You don't want to miss this festival of fun, friends and some of the greatest live EDM acts on Earth. The perfect party is waiting for you! The 2024 Coors Light Snake Pit will feature a lineup of global electronic music superstars. Don't miss the Race Day concert Sunday, May 26 at the Indianapolis Motor Speedway!
All times eastern time
7:00 AM
Gates Open
Venue gates open at 6 a.m. Concert venue gates open at 7 a.m.
11:45 AM
Break for Pre-Race