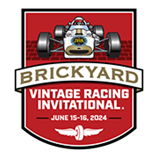 Plan Ahead
Brickyard Vintage Racing Invitational
ADA Services
The Indianapolis Motor Speedway Ticket Office is located in the Main Administration Building at 4790 W. 16th Street, Indianapolis, IN 46222, just east of the roundabout at Crawfordsville Road and 16th Street. Arrangements can be made through the Indianapolis Motor Speedway Ticket Office to accommodate guests who require accessible seating and parking. Accessible seats and spaces for wheelchairs and companion seats are available.

To purchase ADA Tickets and Parking or for questions regarding ADA, please contact the IMS Ticket Office at 317-492-6700, 1-800-822-INDY (4639) or ada@brickyard.com.
ADA Services
Access to the following disabled assistance services at IMS are available to any guest that identifies that they are disabled. The guest and a companion may step in line, in the order that they have arrived, for accessing that service. No further proof of a guest's disability or a pass may be requested.
Assistance Golf Carts
Golf carts are utilized during major event days at IMS to assist disabled guests, free of charge, to certain destinations throughout the property.
Golf carts with wheelchair ramps are available.
Guests must be inside IMS gates to access shuttles. Golf carts may only stay within IMS gates and cannot go to and from IMS Exterior parking lots.
Elevators
Tower Terrace (Elevator pass required to use; Contact Ticket Office to obtain Pass)
Reminders
Our staff will be on hand to check ADA placards upon arrival. Arrive early to ensure you get a ADA parking spot on those days parking is first come, first serve.
Parking
Free accessible parking is available in the IMS infield during the SVRA event weekend.
Law enforcement will be on hand to check ADA placards upon arrival. Interactive Map.