MotoGP World Championship
The MotoGP World Championship raced at the Indianapolis Motor Speedway from 2008-2015 in the Red Bull Indianapolis Grand Prix. MotoGP competed on a 16-turn, 2.591-mile road course at IMS that ran counter-clockwise - the direction of the oval events - and incorporated the iconic front straightaway, a newly renovated infield road section and the short chute between Turns 1 and 2 of the oval.
In 2014, the Red Bull Indianapolis Grand Prix earned recognition from Dorna as the "Best Grand Prix" of the 2014 season, becoming the first North American race to earn this honor. The redesigned and improved IMS road course, as well as supporting events such as Motorcycles on Meridian helped secure this recognition.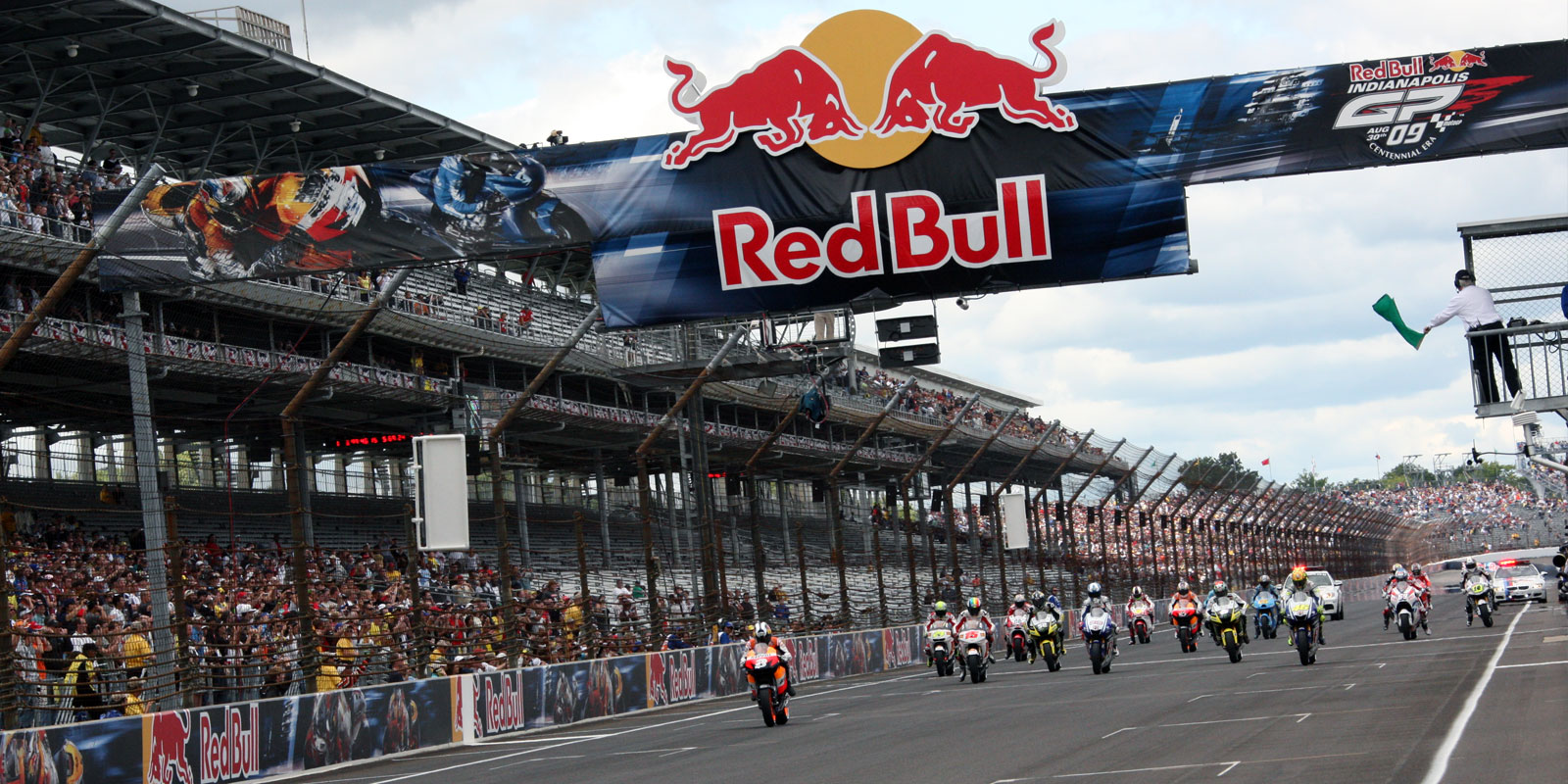 Quick Facts
Most victories: 3, Marc Marquez (2013-15)
Most poles: 3, Marc Marquez (2013-15)
Youngest winner: Marc Marquez, 20, 2013
Oldest winner: Valentino Rossi, 29, 2008
Closest margin of victory: .688 of a second, Marc Marquez over Jorge Lorenzo, 2015
Widest margin of victory: 10.823 seconds, Dani Pedrosa over Jorge Lorenzo, 2010

Following eight years of delivering world class motorcycle racing, the Red Bull Indianapolis Grand Prix was not on the 2016 event schedule for the Indianapolis Motor Speedway. The award winning MotoGP event was first hosted at IMS in partnership with Dorna Sports in September of 2008. The cancellation of the race was a mutual decision by both parties.
"This outcome reflects the best interests of both the Indianapolis Motor Speedway and Dorna Sports," said J. Douglas Boles, President of the Indianapolis Motor Speedway. "We are proud of our efforts to increase attendance in recent years and successfully host a truly international sporting and cultural event. We're also thankful to Dorna Sports for its strong support and partnership since 2008. However, the timing is right to pursue other opportunities that drive greater revenue for both the Speedway and our Central Indiana economy."
Following the removal of the Mazda Raceway Laguna Seca from the MotoGP schedule in 2014, the Red Bull Indianapolis Grand Prix became the only summer MotoGP event in North America for the last two seasons. This caused both financial and logistical challenges that no longer made the event viable for the foreseeable future. Ultimately, removing the Indianapolis race became key to Dorna's efforts to expand both the number of events it hosts and the geographic diversity of its schedule.
"Bringing MotoGP to the Indianapolis Motor Speedway has been a tremendously rewarding experience," said Dorna Sports Chief Executive Officer Carmelo Ezpeleta. "The historic track, professional staff and welcoming host community produced an annual event that was enjoyed by all. While both sides recognize it's the right time to pause this relationship, the door is not closed on future collaborations together should current circumstances change."
| Year | Race Winner | | Constructor | Pole Winner | Fastest Lap | Race Report |
| --- | --- | --- | --- | --- | --- | --- |
| 2008 | Valentino Rossi | | Yamaha | Valentino Rossi | Valentino Rossi | View Results |
| 2009 | Jorge Lorenzo | | Yamaha | Dani Pedorsa | Jorge Lorenzo | View Results |
| 2010 | Dani Pedrosa | | Honda | Ben Spies | Dani Pedrosa | View Results |
| 2011 | Casey Stoner | | Honda | Casey Stoner | Casey Stoner | View Results |
| 2012 | Dani Pedrosa | | Honda | Dani Pedrosa | Dani Pedrosa | View Results |
| 2013 | Marc Marquez | | Honda | Marc Marquez | Marc Marquez | View Results |
| 2014 | Marc Marquez | | Honda | Marc Marquez | Marc Marquez | View Results |
| 2015 | Marc Marquez | | Honda | Marc Marquez | Marc Marquez | View Results |