GROUP TICKETS & PACKAGES
Indianapolis 500 Group Ticket Prices
Sunday, May 26, 2024
Thrilling races. Unforgettable moments. Great group seats. Whether it is employee appreciation events, client engagement opportunities or friends and family enjoying a race weekend, the Indianapolis Motor Speedway offers your group a unique experience and breathtaking action that only the Brickyard can deliver. From tickets to hospitality and suites, our facility offers unlimited opportunity for any group looking for a one-of-a-kind experience. Begin planning your group experience at IMS today.
GROUP TICKET SALES
For new purchases of 20 or more tickets, you and your group are entitled to the following benefits:*
$5 retail discount at participating IMS Retail Shops
Personal Group Sales Representative
Special group block seating
In addition, if you and your group choose to sit in one of the designated locations listed below, you will be eligible for these extra benefits:*
Up to $27 savings on ticket options
Complimentary tickets to Legends Day presented by Firestone (Saturday, May 25, 2024)
*Offer cannot be applied to previously purchased tickets
| 2024 Group Ticket Prices* | Regular Race Day Package Price | Group Race Day Ticket Price |
| --- | --- | --- |
| Tower Terrace North | $155 | $103 |
| Northeast Vista Backstretch, North Vista, South Vista | $150 | $90 |
| H Stand | $140 | $82 |
| Race Day General Admission | $85 | $40 |
*The color-coded price points correspond to the map shown below.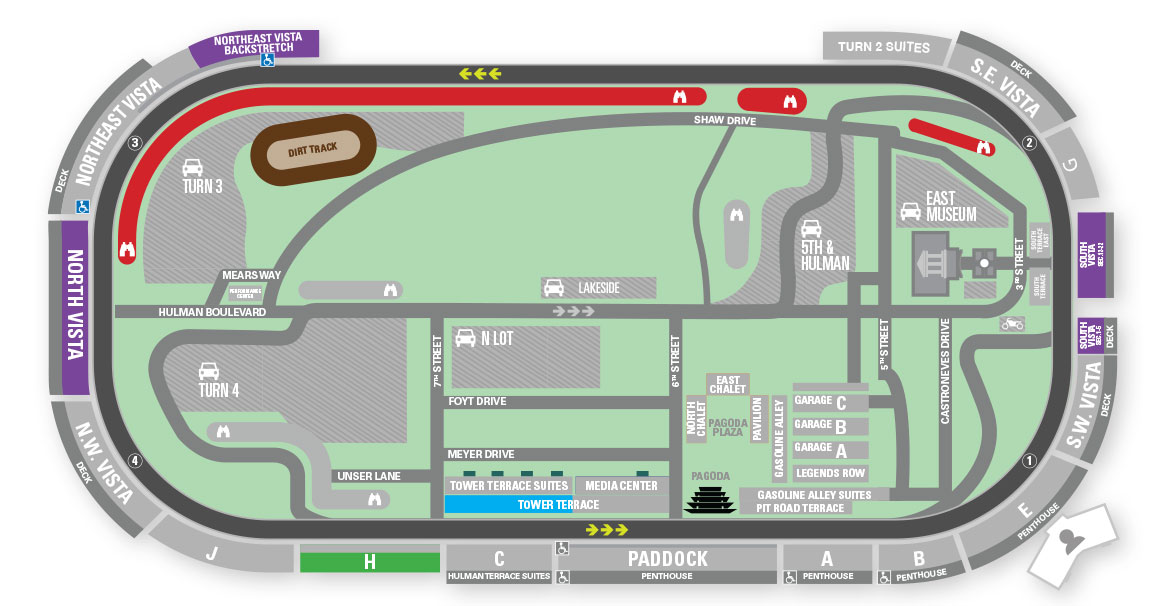 Frequently Asked Questions
Please call the Group Sales Department at (317) 492-8100 or complete the "Contact Our Group Sales Team" form. We will be happy to take care of your ticket reservation. Remember, there is no cost to reserve your group tickets.
Simply determine which race(s) your group wants to attend and the approximate number of tickets you think you will need. Please remember that any person, regardless of age, must have a reserved seat ticket for admittance to reserved seating areas on Race Day. In General Admission areas, children ages 15 and under are admitted free with a paid adult General Admission ticketholder.
You may reserve as many tickets as you think you will need. You may contact your Group Sales Representative to cancel tickets at any time until your final payment is due. Once full payment is received, the tickets are non-refundable and non-exchangeable.
Payment is accepted via all major credit cards or cash. If you reserved tickets for your group in advance, full payment is due no later than 30 days prior to each respective race.
Ask your Group Sales Representative today about how your group can park only minutes away from your seats. Race Day auto parking starts at $35 per vehicle, and Race Day bus parking starts at $200.
Grounds Tours are organized by the IMS Museum. For more information, call the IMS Museum at 317-492-6784.