Indianapolis 500 presented by Gainbridge
May 26, 2024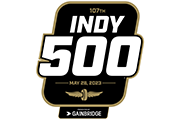 Opening Day - Indianapolis 500 Practice
Tuesday, May 16
The roar of engines returns to the Indianapolis Motor Speedway as athletes of the NTT INDYCAR SERIES prepare for the 107th Running of the Indianapolis 500 presented by Gainbridge. Enjoy the sights and sounds of May at the Brickyard while seeing your favorite drivers push their cars to the limit at speeds over 230 mph.
All times eastern time
8:00 AM - 6:00 PM
Gates Open
Bronze Badge customers also receive Pit Lane access on Tuesday, May 16, during regular gate hours.
9:00 AM - 11:15 AM
Indianapolis 500 Oval Veterans Practice

1:00 PM - 3:00 PM
Indianapolis 500 ROP & Refreshers

3:00 PM - 6:00 PM
Indianapolis 500 Practice