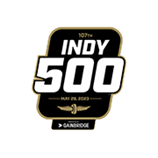 Indianapolis 500 presented by Gainbridge
May 16-22, 26-28

PPG Presents Armed Forces Qualifying - Day 1
Saturday, May 20
Four intense laps, 16 perfect corners, 230+ mph speeds. Buckle up, because Indianapolis 500 qualifying will have your heart racing May 20-21! The most daring racers in the world go all-out, holding on for 10 nerve-racking miles with the hopes of earning a spot in "The Greatest Spectacle in Racing." Can you hold it together, too?
Free entry for all military personnel with a valid military ID.
All times eastern time
8:00 AM - 6:00 PM
Gates Open
8:30 AM - 9:30 AM
Practice: Full Field
Cars are split into two groups. Each group receives 30 minutes of practice.

11:00 AM - 5:50 PM
Full Field Qualifying
Qualifying will take place for positions 1-30. Positions 13-30 will be set, and those drivers will not requalify Sunday.
When every car in the qualifying order for Saturday has been presented at least one chance to qualify, teams may choose from two lanes for second and subsequent attempts. Cars in the priority lane (Lane 1) must withdraw their qualified time – if the car has one – but get priority access to the track ahead of Lane 2. Lane 2 is for cars that have already qualified but wish to improve their position.
Once cars are outside of the Top 30, they are considered to not have a qualification speed as only positions 1-30 will be locked in during Day One.
2:30-4:30 p.m. on NBC